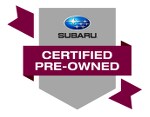 All of our Mastro Subaru Certified Pre-owned cars have Subaru powertrain coverage for 7 years / 100k miles, at over 600 Subaru dealers nationwide. Travel with confidence. Upgrade to additional coverage at great prices. 
NEW! Structure your own deal. Save time, get payments, trade estimates, do your financing... all in one place. 
Try our new Personalize Payments feature to get real "out the door" numbers. You can calculate taxes, fees and DMV costs
for real numbers. Adjust the terms and down payments to suit your needs. Look below to the right...