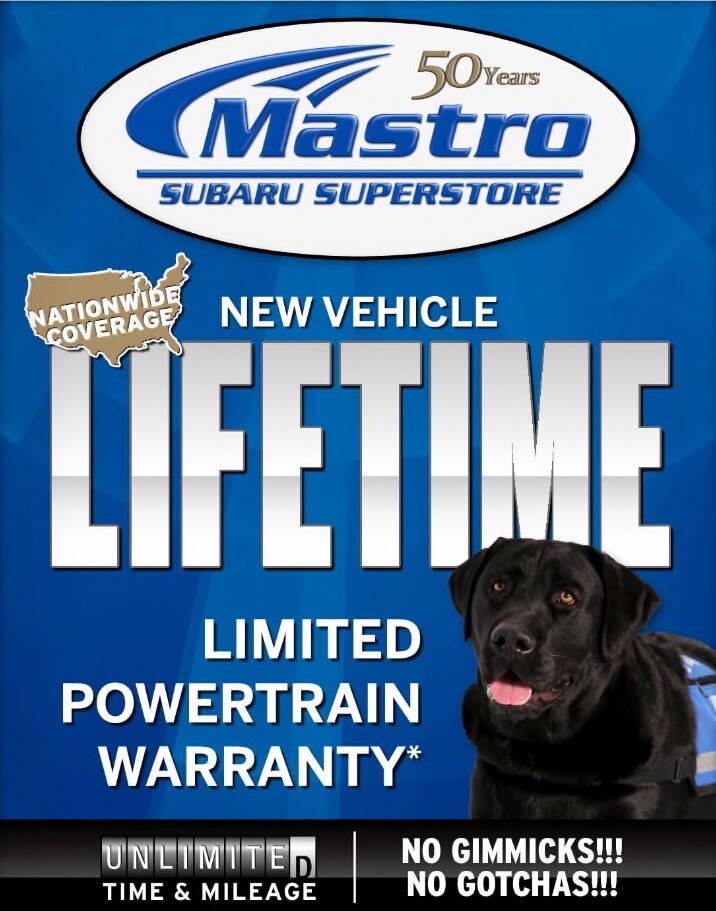 The Subaru Lifetime Warranty is in place to protect your purchase. Under this warranty, we are responsible for the engine, transmission/transfer case, drive axle, and seals & gaskets. To put a long story short: we've got you covered. Dealing with engine failure? We'll take care of it. Having some transmission issues? You have no need to fret. From weird noises to smoking engines, we're here to take care of your vehicle...for the entire time you own your Subaru!
Let's Get to the Details
The warranty begins the day you buy the car and ends when it's no longer yours (whether you sell it or simply drive it until its very end). Keep in mind that you must keep up with your Subaru's routine maintenance schedule. As long as you do your part, you can count on us to do ours. Following your maintenance schedule is the easiest way to keep your Subaru driving like-new for years to come.
With your new Subaru purchase, you also qualify for Mastro's Subaru's exclusive Loyalty for Life program; thus, you qualify for a 15% discount on all parts and accessories, the Mastro Rewards program, and lifetime loaner cars. At Mastro Subaru of Tampa, you can trust our warranty. We're here to keep your car in tip-top shape for years to come. For full information, please refer to the above video.
If you have any questions about our Subaru Warranty, feel free to contact our Subaru dealer in Tampa at (888) 859-6539. We are here to answer any questions you may have.
Hours
Monday

09:00am - 08:00pm

Tuesday

09:00am - 08:00pm

Wednesday

09:00am - 08:00pm

Thursday

09:00am - 08:00pm

Friday

09:00am - 08:00pm

Saturday

09:00am - 06:00pm

Sunday

Closed