The 2020 Subaru Love Promise Customer and Community Commitment Award
We've been nationally recognized for our dedication to our customers, our community, and the Subaru Love Promise.
We're honored to receive the 2020 Subaru Love Promise Customer and Community Commitment Award. This award nationally recognizes elite Subaru retailers who provide an exceptional customer experience at every interaction with Subaru. These retailers have also demonstrated an outstanding commitment to supporting passions and causes in their local communities in important areas such as the environment, community, health, education, and pets.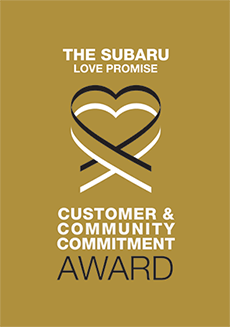 What is the Subaru Love Promise?
Subaru and our retailers believe in making the world a better place and the Subaru Love Promise is our vision of respecting all people. This is our commitment to show love and respect to our customers and to work to make a positive impact in the world.
Pets
Whether they live in our homes or in the wild, Subaru is committed to keeping all animals safe and healthy.
A partner since 2008, Subaru has donated close to $14 million to the ASPCA and helped support nearly 1,000 pet adoption events, resulting in more than 11,500 adoptions to date.
Environment
Loving the environment means more than loving the great outdoors. It means working to preserve it.
Over a decade ago, Subaru became the first U.S. auto manufacturer to become zero-landfill, and now, in collaboration with the National Park Service and the National Parks Conservation Association, Subaru is leveraging that same environmental expertise to help the National Parks reach zero-landfill too.
Education
It's our goal to make the pursuit of knowledge available to as many minds as possible.
Total donations to teachers: $92,233 Over 200 teachers adopted More than 15,000 students impacts
Community
In a perfect world, hunger would be history and hope would be commonplace. We believe a perfect world is possible.
Subaru and Meals on Wheels America worked together to make volunteering easier, by launching a tool called the Meals on Wheels Online Volunteer Drive.
Health
We should all have a chance to lead a healthy life. We're aiming to give as many people that chance as we can.
Subaru has donated more than $4.5 million dollars toMake A Wish, helping to grant 610 wishes in the U.S.
How is Mastro Subaru of Tampa dedicated locally to the Love Promise?
Our Love Promise can be seen in various partnerships with local charities and non-profits. We're grateful for the opportunity, not only to be a part of our community, but to serve it as well.
Bark in the Park, Southeastern Guide Dogs, Pet-A-Palooza, Humane Society of Tampa Bay, Tuxes & Tails Masquerade
Jesuit High School, Univ of Tampa
STS Stick Golf Tourney, LCO Lacrosse, Halax Trophy, Festa Italiana
Love Promise Stories from Mastro Subaru of Tampa
Subaru and Mastro Subaru of Tampa believe in making a positive impact on the communities in which we live and work. We uphold that belief through our Love Promise Community Commitment. Every month, we select inspiring stories from customers and partners from around our area who strive to support our collective commitment and feature them here
Guide Dog "Mastro" Brings a Brighter Future – Leslie R
The Mastro Family and Mastro Subaru have shared the love with Southeastern Guide Dogs since 2014. Through programs such as the Subaru Share the Love event, the Mastro family's matching donations, Walkathon sponsorships, and other caring gestures of generosity, the Mastro community makes an incredible difference for Southeastern Guide Dogs. But here's a story about one dog—a dog named Mastro (the second!), sponsored by the Mastro Subaru Superstore. Matt is a young man who was adopted at age 2 from Portugal, where his parents worked for the Air Force. His biological family did not have his medical records, and his vision loss went undetected for several years until they noticed something was wrong. Doctors discovered a tumor growing behind each eye, and that he was blind in his left eye since birth. Now age 19, Matt attends the University of West Florida where he majors in exceptional student education. He had been using a cane to navigate his surroundings. But that's all changed since he met Mastro, the playful, smart black Labrador guide dog that never leaves his side. "I've run into so many trees and poles on my college campus that I'm looking forward to having Mastro with me," he says. Mastro has a fast pace, which is a great fit for Matt. "I'm excited about my future with him," he says. With help from Mastro Subaru, and a sweet guide dog named Mastro, Matt's future looks bright!
---
Mastro Makes Memories with Moffitt – Niki M
On July 11th the LLS Suncoast Chapter and Mastro Subaru has the pleasure of delivering 80 blankets to Moffitt Cancer Center as part of the Subaru Loves To Care program. These comforting gifts were accompanied by personalized messages of hope written by the customers and staff of Mastro Subaru. This incredible act of generosity was warmly received by the Moffitt staff who were thrilled to distribute these comforting gifts to their patients. Nikki Inda, who spearheads the program made the visit extra special to the Subaru team. She started by doing a mini orientation on blood cancers, diagnosis, treatment etc. It hit much closer to home learning what patients truly go through before meeting them. While passing out blankets in one of the waiting rooms, the campaign manager from LLS (who is also named Niki) had a rude awakening. She encountered a close friend from high school, and quickly realized running into her friend was not a coincidence. He was there being treated for Leukemia after his second relapse at 20 years old. Niki used the opportunity to make sure they were aware of all of the LLS resources available to patients and left them with a warm blanket from Subaru for those very chilling rooms. From there Nikki lead the team to 3 oncology floors until there were no more blankets left! LLS is proud to partner with Subaru to spread hope, love and warmth to those fighting cancer, across the country and right here in the Tampa Florida community. Many thanks to everyone at Mastro Subaru and Moffitt Cancer Center, not only for a memorable day, but for supporting LLS's mission to cure blood cancers and improve the quality of life of patients and their families.
---
Mastro Subaru's sponsored veteran service dog – Folkman F
Dear Steve and the Mastro Subaru family, When our family chose to raise a puppy for Southeastern Guide Dogs, we never imagined the difference a puppy named "Mastro" would make. Our teens learned the value of investing in something beyond themselves, and that lesson was never more profound than when "Mastro" grew up to become a service dog for a veteran in need. It was hard to say goodbye to him after loving him for so many months, but we knew he was destined for something truly special. He is such a smart dog! We're so proud of the job "Mastro" is doing for one Army veteran. Here's what Southeastern Guide Dogs shared with us about his new role: Don retired after 20 years with the Army, serving in various military intelligence units concentrating in aerial exploitation, counterintelligence, and electronic warfare. He used his master's degree in education to retire from a second career after teaching for 10 years as a special education teacher. After PTSD, nightmares, sleeplessness, panic attacks, and mood swings intensified, the VA suggested that Don apply for a service dog. Now a loving and playful yellow Labrador named "Mastro" helps Don sleep better at night and relax more during the day. "Since I got "Mastro", I don't find myself running to check the windows", he says. "If I have a nightmare, then he's right there. My goal is to get off medication one day and I'm hoping "Mastro" will help me achieve that. I am really excited about our future and couldn't be pleased more with the help I receive through "Mastro". Thank you to the entire Mastro Subaru organization for sponsoring and naming "Mastro" and for helping this deserving veteran. Thank you for sponsoring two other dogs, for supporting Southeastern Guide Dogs through its Walkathons and through the Subaru Share the Love campaign, and for your ongoing affiliation with this worthwhile organization. Our family couldn't be prouder of "Mastro" the service dog and more thankful for Mastro Subaru. Sincerely, Ken, Debi, Devin, and Jared Folkman
---
Subaru Loves to Care Blanket Delivery – Sherri S
The Leukemia & Lymphoma was proud to partner with Mastro Subaru for the Subaru Loves to Care program. On July 13, 2017, a team from Mastro Subaru led by Bill Harkell delivered 80 care blankets and 10 craft kits to cancer patients at Moffitt Cancer Center at International Plaza. The patients were so grateful for the love and support they received from Mastro Subaru and their customers.
---
Subaru and NWF Loves the Earth – Patricia
Here is one photo where plants were planted right before school got out for the summer! We plan on really starting and planting when school resumes in the Fall. Thanks, again, for supporting our school. I have included a picture of the plants that were sent, which are really taking off!
---
Purchasing my wifes first Subaru – Joshua G
This story starts with my wife and her hatred for her 5 month old crossover from another manufacturer. After seeing how happy my Subaru made me she finally decided it was time to try Subaru. L.D. Mendez from Mastro truly shined in working with me through text and phone calls to make sure that we could get something to make my wife happy. The effort and hours that he put into our purchase was well above and beyond anything we could have expected. After all day going back and forth we finally made it to the dealership to look at vehicles. There was no pressure and we felt like family coming into the dealership. Most everything was handled before we came in and it was just down to the test drive. My wife test drove the Crosstrek and the Impreza. She instantly fell in love with the Impreza with EyeSight technology. We did not feel like we needed to haggle as everything we wanted was included in a price that we wanted. I thought for sure when I pulled out the Ambassador coupon I was given by a friend that the manager would be upset. However, he seemed excited to see this coupon as this meant he could get our payments down even more and make us happy. I never expected this reaction when using the coupon. For the first time ever, 4 months later my wife still loves her car and is excited to get in it every time. This drove me to keep attempting to join the Ambassador team and today I was finally accepted. Thank you Subaru for all that you do as a company and a lifestyle.
---
Humane Society of Tampa Bay – Donna G
Mastro Subaru in Tampa Fl is a dealership that represents all that is positive about Subaru. Their honesty , reliability and community involvement make it a great place to do business. I am especially impressed with their support of the Humane Society of Tampa Bay. I have been a volunteer at the shelter for many years and I see first hand how many animals are able to find good homes through the efforts of the Humane Society. I applaud Mastro Subaru for all that they do to support this wonderful cause.
---
Subaru Loves the Earth - E Waste Event – Danielle S
We would like to thank our customers for participating in our E Waste Recycling event during the month of April. With your help, we were able to prevent 2,090 lbs of carbon emissions from polluting the atmosphere. This is equivalent to saving 81 trees, 356 gallons of gasoline, 3,030 plastic bottles, and 13,936 aluminum cans. Thank you for helping strengthen the Subaru Love Promise!
---
April 1-30, 2015 E-Waste Recycling Event – Molly M
Throughout the month of April, we are hosting an E-Waste Recycling Event in our store to collect unwanted electronics. We've arranged to work with a company who will responsibly collect, re-purpose, and recycle your electronic waste. Help us protect our environment. Just show up with your E-Waste and we'll do the rest! The first 50 customers who contribute will receive a complementary environmental badge of ownership. We will accept: LCD Monitors, Cell Phones, Laptops, Tablets, CRTs up to 40", Video Games/Consoles, Fax Machines, DVD/VCR Players, Printers, Computer Peripherals, Switches/Routers, Cords and Wires.
---